Editors note: Advertisers are not responsible for the contents of this site including any editorials or reviews that may appear on this site. For complete and current information on any advertiser product, please visit their Web site.
I had never thought about what my dream engagement ring would be. You know, no point putting the cart before the horse, right?
Over brunch one day in the summer, my late 20's friend told me that her dream engagement ring would ideally be a rough cut diamond, which I thought was quite representative of her chic yet down-to-earth style. She then asked me what my dream engagement ring would be. I had never thought about what my dream engagement ring would be. Either I was too busy wanting an engagement ring with my long term relationship with my ex (seriously, I was so desperate for one that a ring pop probably would have done) or I was not even thinking about it at all because I was single. You know, no point putting the cart before the horse, right?
Related: How Much is That Wedding In the Window?
Dream Engagement Rings: A Friend?
One benefit to having a dream engagement ring is that.. well… the bride will be happy with their ring and may be more likely to say "yes" (haha). Other women will compare your ring with theirs and secretly judge you for the style, cut, and colour of your ring.
Other than these two reasons, I don't see too much benefit with regards to selecting your own ring, but to each their own I guess!
Related: A Woman's Perspective on Engagement Rings
Unless you have a wonderful angel like Paul Walker to saunter into the jewellery store that you are looking at to buy you your $10,000 engagement ring because your fiancee is in the military, sometimes these expectations for a certain dollar-spend on a ring doesn't seem like "love" to me.
Or Foe?
At the same time, it makes me think that expectations on something that is supposed to be romantic makes it… well… less romantic. The gesture of a person who is in love with you to save up their money, sacrifice, be diligent, and to want to make you happy by spending their hard earned money on a ring for you, to ask for your hand in marriage, is already sexy enough. When you have expectations and are unhappy with the choice, or you ask for a certain style or carat or cut, I can't seem to feel like it is demanding, or ungrateful, or insert-other-adjective-here.
Related: Would You Buy an Amazon Engagement Ring?
That being said, I have had friend-couples who have done both. One guy proposed with a custom made design and she loved it. I think it's very romantic when someone knows you so well and knows a style that you would like. The other guy asked for her opinion on rings, looking at the Tiffany website and proposed a few months later with a style that was similar to the one she wanted. Both were happy. I guess it depends on the individual though.
My "dream" Engagement Ring
Well, to answer my friends question, I did a little looking around and donned my crow outfit for all things shiny and feel that the Tiffany Novo would be my dream ring. It's so dainty and delicate.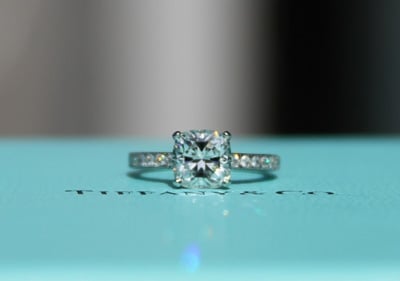 Although lots of women desire a Tiffany ring, the resale value of diamond rings doesn't justify the added price tag for the "Tiffany" brand. Ideally, it would be something that is ethical, but it wouldn't have to be Tiffany of course. Though I'm a big fan of the colour of the box.
One day, while I was procrastinating from studying, I downloaded the Tiffany Ring app (yes, can you believe that there is one?) where it transposes the ring on your fingers after you take a picture of your hand. Needless to say, I felt sheepish procrastinating with that app and felt sheepish to have that app int he first place, hence I deleted it. The app made my fingers look like fat sausages.
If you'd like to feel like a total crow, have a look at a Glamour article on 30 uber sparkly engagement rings. Some of these rings are so excessive and unattainable (you know, unless you have $100,000 lying around) it might give you a good laugh (or a case of wanting to keep up with the Jones'- you decide).
Readers, what do you think about expectations or preferences for engagement rings styles and types? Do you think this is excessive?